Trying out KUBOTA Planting Machine in Cirebon, Minister of Agriculture Expects Acceleration of Planting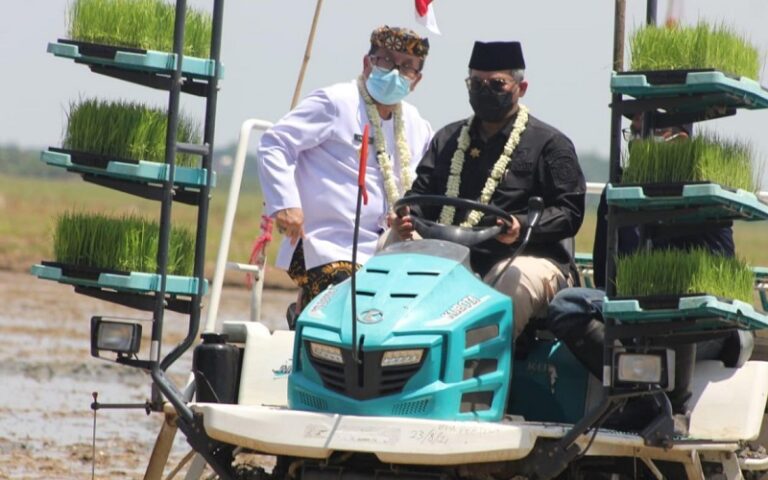 The village Guwa Lor in Cirebon, West Java has at least 429 hectares of rice field This paddy field has tremendous potential if its productivity can be maximized, one of which is by accelerating
the planting rate. This was conveyed by Vice Minister of Agriculture Harvick Hasnul Qolbi during a work visit to rice fields in Guwa Lor Village, as quoted from iNews (2/12/2021). Vice Minister Harvick invites
the mobilization of farmer groups in Guwa Lor Village to speed up the rice planting process using modern agricultural machinery.


"Modern agriculture involving the younger generation is a benchmark of a country's progress" Harvick told the farmers in Guwa Lor Village. He added that the younger generation must understand the fact that agricultural sector is very promising. Especially now, with advances in agricultural technology, monitoring is easier to do.

During the event, Vice Minister Harvick also tried the planting machine from PT Kubota Machinery Indonesia, the Kubota Transplanter SPV-6CMD. said agricultural machinery came with assistance from the ministry
Agriculture that serves to plant rice to make it more practical. "We expect that with this machinery, food production in Cirebon will increase," he said after planting rice seeds of local varieties and Inpari 32 varieties on the 1 hectare land. Not only that, Harvick continued, the marketing process of agricultural commodities is now easier to do and can directly reach buyers.

"There is no need to worry about marketing. The government can help, because there are many ways to market. Don't ever think that the government doesn't pay attention to farmers," he said. Meanwhile, Cirebon Regent H. Imron Rosadi said that the majority of residents in Guwa Lor Village are farmers. Many hoped that the regeneration process in the village can run smoothly. "Hopefully Cirebon farmers can prosper and multiply," he said.